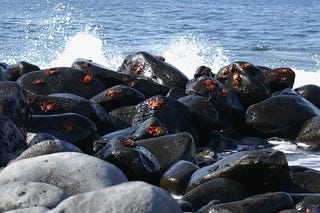 My bucket list is made up of some pretty random things - run a half-marathon, see the Northern Lights, dance with my son at his wedding, and visit a long list of awesome destinations. One of these places that top my list is the Galapagos Islands. When people ask me why I usually respond by saying "Why not?" I'm an island girl at heart and where better to visit than a magical place where you can choose between 19 different islands? One more amazing than the next. I also love wildlife and the Galapagos Islands have their fair share.

Check out why I want to visit this island paradise and why you should too!
The Activities
If you're a thrill seeker who loves being active, there's no shortage of unbelievable things to do in the islands. I prefer dry land activities over aquatic adventures, but you can certainly do both. Diving is extremely popular in the area and for good reason. You can encounter manta rays, hammerhead sharks, and even marine iguanas. All of that sounds quite frightening to me, but if you know how to dive and enjoy it, there's plenty to do at the Galapagos.
I prefer hiking and hiking here is very different than what I'm used to. Living up north, we hike through dirt paths in the wilderness. But not in the islands. There, rocky paths overlook gorgeous, sandy beaches. You can venture into the dense forest if you so choose and still catch glimpses of white sand through the trees. There are even volcanoes and lava fields to discover. But don't worry. There are plenty of tours available so that you don't have to venture out alone, whether by land or sea.
The Purity
There's something fascinating and exciting about uncharted waters and untouched land. Did you know that most of the Galapagos Islands have never been touched by man? That means that the gorgeous landscape still possesses its natural purity and integrity. You won't see large buildings, busy roads, street signs, or traffic. No factories or skyscrapers. It's like a true island oasis that offers isolation and a glimpse into a pure and beautifully preserved landscape.
If you really want to experience all the islands have to offer and cover a lot of ground, boat and yacht tours will make sure that you don't miss a single, captivating view.
The Wildlife
Part of the island's purity lends itself to vast wildlife. With untouched, natural lands, there are plenty of places for animals to safely roam and thrive. From reptiles and birds to mammals and marine life, the island is home to over 200 different species.
Because I find birds extremely graceful and captivating to watch, I'm most excited to observe the flamingos and Darwin finches, which if you know anything about the Galapagos it's that Darwin's theory of natural selection surrounds this area and these birds. Reptiles include the infamous Galapagos tortoise, water snakes, and bearded dragons. If sea life is what you're after, you'll discover all different types of whales, including blue, Orca, and Humpback. Sea lions, seals, and penguins also call this region home.
The Laid Back Atmosphere
Along with the untouched landscape comes a very laid back and relaxed atmosphere on the island, which is quite possibly my favorite part of island life in general. You can find many of the island's wildlife soaking up the sun for hours at a time on rocks and shorelines. Did you know that only 5 of the 19 islands are actually inhabited by people? That should tell you something about how peaceful these islands are.
When to Go
If you're looking for warm weather, try visiting the islands between December and June. It's wet but hot! The dry and cool season runs from June to November. The warmer season offers clear visibility in the island waters and calmer seas. If you're looking to do boating or diving, this is the ideal time of year. Though with the wonder and mystique that the Galapagos Islands offer, any time would be a good time to explore.